Hardwood | Styles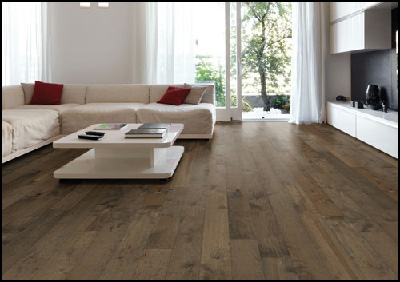 One of the most sought after amenities in a home is wood flooring. From it's natural appearance and warmth underfoot, wood is beautiful and timeless. The number of hardwood choices, patterns, colors, textures and price points can intimidate even the most experienced shopper. Knowing the basic styles can provide you with a firm foundation upon which to begin your hardwood-shopping journey. Choosing your ideal hardwood style is all about knowing the right combination of aesthetics. When choosing hardwood, the color, character, and construction type are the important factors to consider.
Color
The color of hardwood floors range from very light to an intense dark- and everything in between. While typically, very light or very dark floors work well in contemporary settings and medium tone hardwoods are elegantly at home in a more traditional setting. Golden floors with yellowish undertones including species such as Oak, Pecan, Teak, or Amendoim create a warm and inviting space. Hardwoods with more red tones such as Brazilian Cherry, Santos Mahogany and American Cherry tend to look very rich and elegant while hardwoods with more brown tones such as Walnut or Hickory create a very neutral pallet to accentuate your home furnishings. Choosing is essentially a matter of preference. The color is also affected by the type of finish on the hardwood floor. Most hardwood floors come prefinished however we also offer European oil finish floors which are oiled on site. There are many finish types available from a high gloss to a very matte finish. Generally high gloss finishes bring out the color in hardwoods better and make them look deeper or appear to be richer looking. However there are downsides to a high gloss floor in that scratches or imperfections in the floor are more apparent the higher the gloss level.
Character
Naturally present in hardwood, grain variation, mineral streaks and knots help determine a wood's " Personality." Dramatic grain in Oak, Hickory and Pine can suggest a rustic feeling while the dramatic grain of exotic species such as Tigerwood, Brazilian Pecan and Acacia can create a contemporary look. Typically moderate grain variations in maple, birch and ash woods are associated with the traditional. Along with the grain variation, mineral streaks and knots there are also finish treatments applied to the floor that also enhances the character. There are smooth finishes and textured finishes including hand scraping, chatter marks, kerf marks and wire brushing that also affect the look of the finished hardwood floor.
Construction
There are two basic choices—solid or engineered hardwoods.
Solid planks are created from a single piece of wood and make a handsome floor that lasts for years. These floors are installed on above grade sub floors usually nailed down. Engineered planks are made from several layers of wood (with a core of plywood) and are designed to withstand higher levels of humidity. This means they can go in some rooms solid floors can't. These floors are generally installed glued directly to concrete sub floors but can also be installed using other methods including nail down, stapling or floating.
Come visit our showroom and tell us about your style and needs, one of our friendly sales professionals can direct you to the hardwood floor that's perfect for your home.